Message from Christopher Jones, Head of School, and Benton Bragg, Board Chair
Welcome to the 2021-2022 School Year
Dear Cannon Community,
Whether you belong to a new Cannon family or a family of Cannon lifers, we are all looking forward to the start of our school year together. This excitement comes with both optimism and wonder about what it will look like and how we will navigate on campus.
While this Year Ahead newsletter includes a wealth of information, I will begin by addressing our response to the rapidly changing COVID-19 conditions in our region. The goal remains to kick off—and sustain—a safe and joyful year that keeps our students and educators on campus and in school.
LESSONS FROM LAST YEAR
Last year, we learned a great deal that continues to inform our efforts in 2021-2022. Our Cannon community lived teamwork, diligently following our COVID-19 health and safety protocols. Multilayered mitigation strategies helped us lower the risk of community transmission during on-campus teaching and learning. And our school community was adept at evaluating, adjusting, and following modified protocols as the pandemic ebbed and flowed.
CURRENT CONDITIONS
In consultation with our local medical and public health experts, we continue to learn about the rapidly changing local COVID-19 conditions. In brief, the prevalence of the fast-moving and more transmissible Delta variant in our area presents challenges to Cannon's ability to stay fully open, if not approached conservatively.
With transmission rates rising rapidly, the risk of being designated a cluster by the State of North Carolina increases. Upon being designated a cluster, local officials may dictate any number of interventions, including the closure of segments of our school, to end the outbreak. This is exactly the scenario we all wish to avoid. Sadly, we are beginning to see reports of schools already facing this challenge.
We hope the current risks associated with transmission fall as rapidly as they have risen. But as we start the year, I believe it is responsible to take recommended actions that will limit the spread of COVID-19 on campus and give us the best chance of staying open.
I share these details not to alarm, but to be transparent about needing every member of our Cannon community to once again rally around our protocols to kick off this school year—and keep us in school.
UPDATED HEALTH & SAFETY PROTOCOLS INCLUDING MASKS
The following Health & Safety Protocols will be in place through September 3, 2021. As conditions are changing rapidly, we will adjust accordingly in hopes of limiting the impact of these interventions while keeping our kids in school.
As has been the case within Camp Cannon this summer, Cannon School will require masks indoors and on busses for all students, faculty, staff, parents, and visitors as we start the school year. Masks are not required for outdoor activities. Masks are not required for athletes indoors when they are actively engaged in training or competition. Any changes to this protocol after the first two weeks of school will be shared on September 3, 2021.
Kindly click on the button below to view all of Cannon School's protocols in effect for the first two weeks of the 2021-2022 school year. Again, these protocols will be reviewed every two weeks, with adjustments made as conditions dictate. Topics include masking, handwashing, distancing, sanitation, testing, contact tracing, quarantine, vaccination, when to stay home, and visitors.
COVID-19 VACCINATION
Choosing to be vaccinated and having your eligible family members vaccinated is a medical decision made in consultation with your doctor. When medically indicated, we strongly encourage families to get vaccinated against COVID-19 in service of Cannon staying fully open. If your child is vaccinated, please update this information in the Magnus Health app. Knowing this information about our community aids our decision-making about future campus and community protocols. Let me state clearly, we have no interest in limiting a student's attendance in our programs based on their vaccination status.

As Head of School, I know that other schools may be starting the year differently, and as a parent, I will admit I am disappointed that we will begin the year all wearing masks. It is a real interruption to the learning environment; however, the interruption of staying home would be far more costly. Starting the year with an abundance of caution—with a commitment to re-evaluate every two weeks—supports our goal of keeping students and educators on campus and in school.
From our shared experience, I know we will navigate this journey with teamwork, respect, and kindness—and for that, I am deeply grateful. On behalf of all of Cannon's educators, we cannot wait to welcome you back on August 19!
Warmly,

Christopher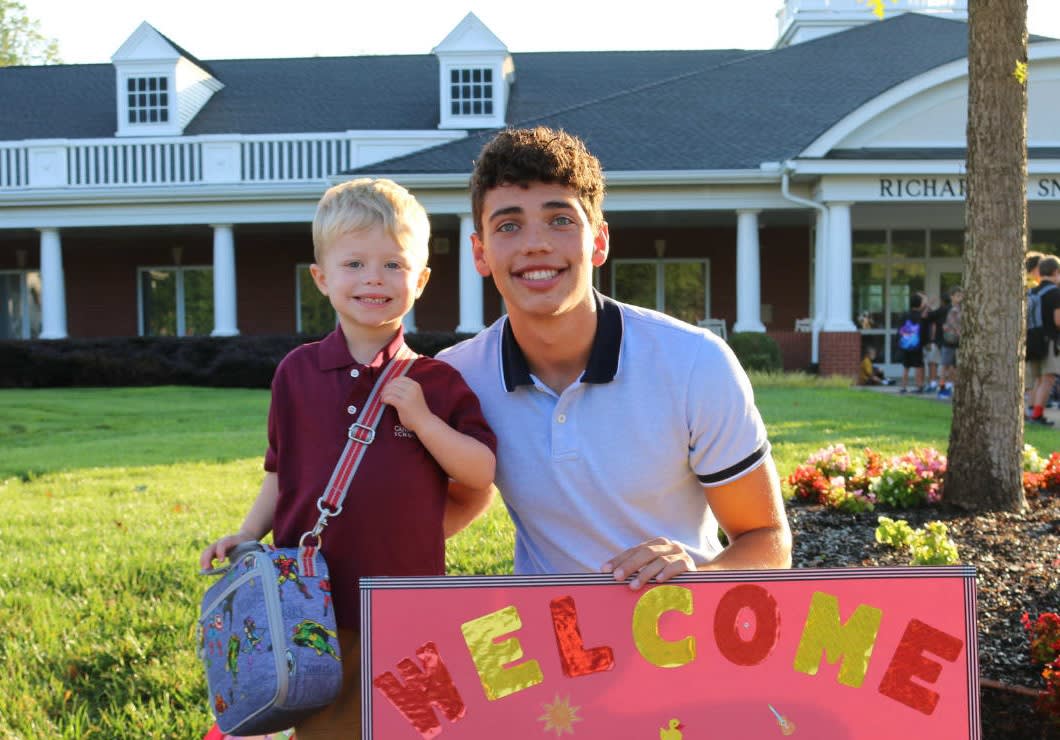 If your family is new to Cannon School, please be sure to visit our New Family Resources page. Learn about New Family Orientation, our New Family Connections Committee, important school forms, and a host of other useful resources that will help your family feel at home in no time.

Welcome Back, Returning Families!
Even if your family is not new to Cannon, there is always more to learn. Please visit our Back-to-School Center to remind yourself about important back-to-school forms and useful resources that will help your family hit the ground running.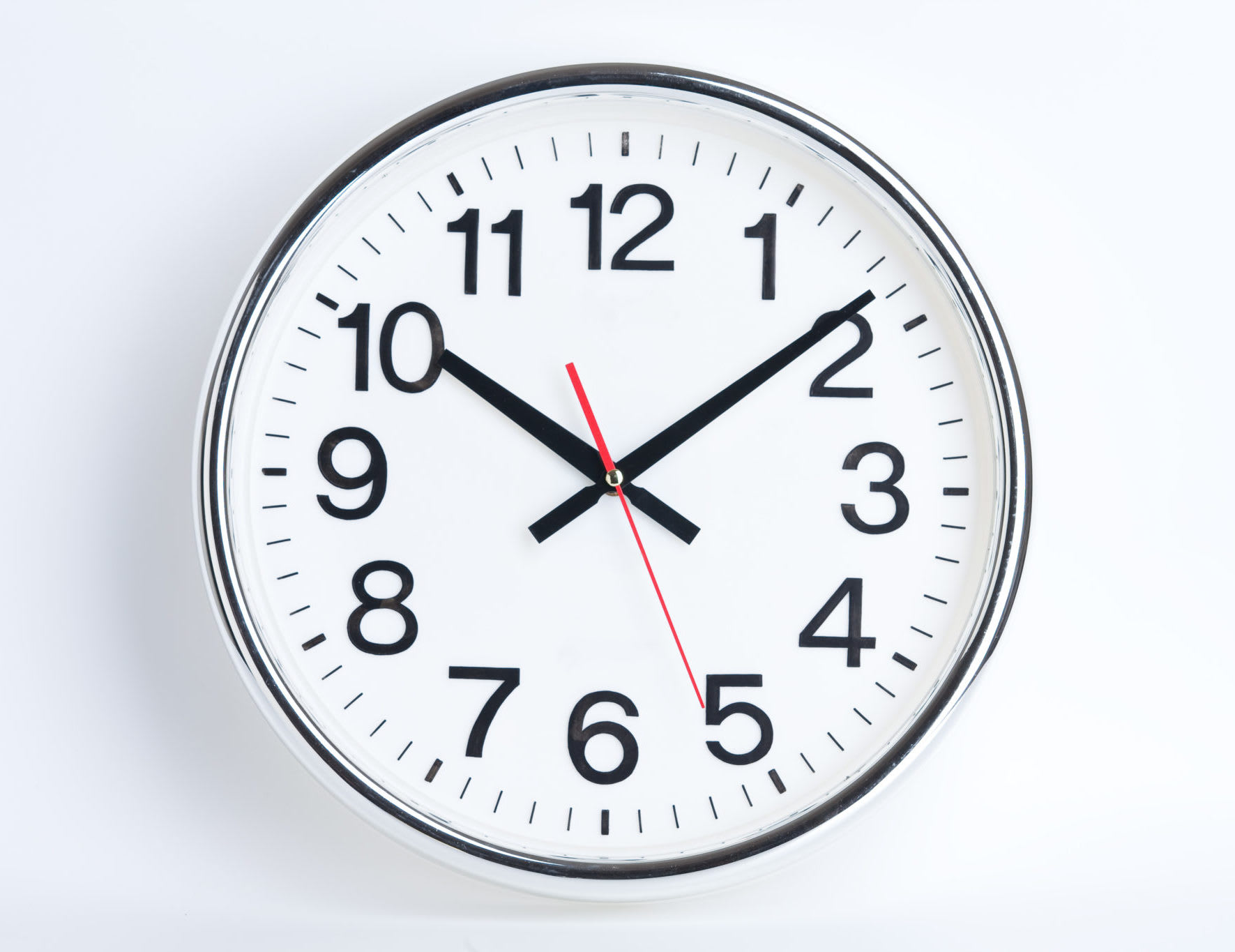 School Start & Dismissal Times
Please note Cannon's start and dismissal times for 2021-2022:
LOWER SCHOOL
Starts at 8:00 a.m.
Students may arrive as early as 7:30 a.m.
From 8:00-8:05 a.m., students will get settled for the day.
Arrivals after 8:05 a.m. will be marked tardy.
MIDDLE SCHOOL
Starts at 8:00 a.m.
Students may arrive as early as 7:30 a.m.
From 8:00-8:05 a.m., students will get settled for the day.
Arrivals after 8:05 a.m. will be marked tardy.
UPPER SCHOOL
Advisory starts at 8:15 a.m.
Arrivals at 8:16 a.m. or later will be marked tardy to school/advisory.
DISMISSAL FOR ALL DIVISIONS
Official dismissal and pick-up begin at 3:00 p.m.

Morning Drop-Off & Afternoon Dismissal
The circulation plan for parents dropping off and picking up their children by car in the traffic circle around Bryant Central Green will remain the same as in past years.
MORNING DROP-OFF
After entering the traffic circle, pull as far forward as possible as directed by staff.
Park near the curb to ensure you are not blocking the center lane of travel.
Stay in your vehicle. Staff will assist students who need help exiting their vehicles.
AFTERNOON DISMISSAL
Print this placard with your family name and children's grade levels that you will need to make visible on your dashboard while in the car line. Please write in large font, with a heavy marker so that names are easily seen.
Pull all the way forward as directed by staff.
Remain in your vehicle using the curb lane or median lane. Lower School students will be escorted to their vehicles by staff.
Refrain from cell phone use.
Parents who pick up students by car must proceed through the car line. Parents cannot park in any of the school's parking areas to wait for their children.
Buses will line up in the same order every day so students can locate their bus, and faculty will supervise.
Students walking to Kings Crossing will be supervised at the crosswalk.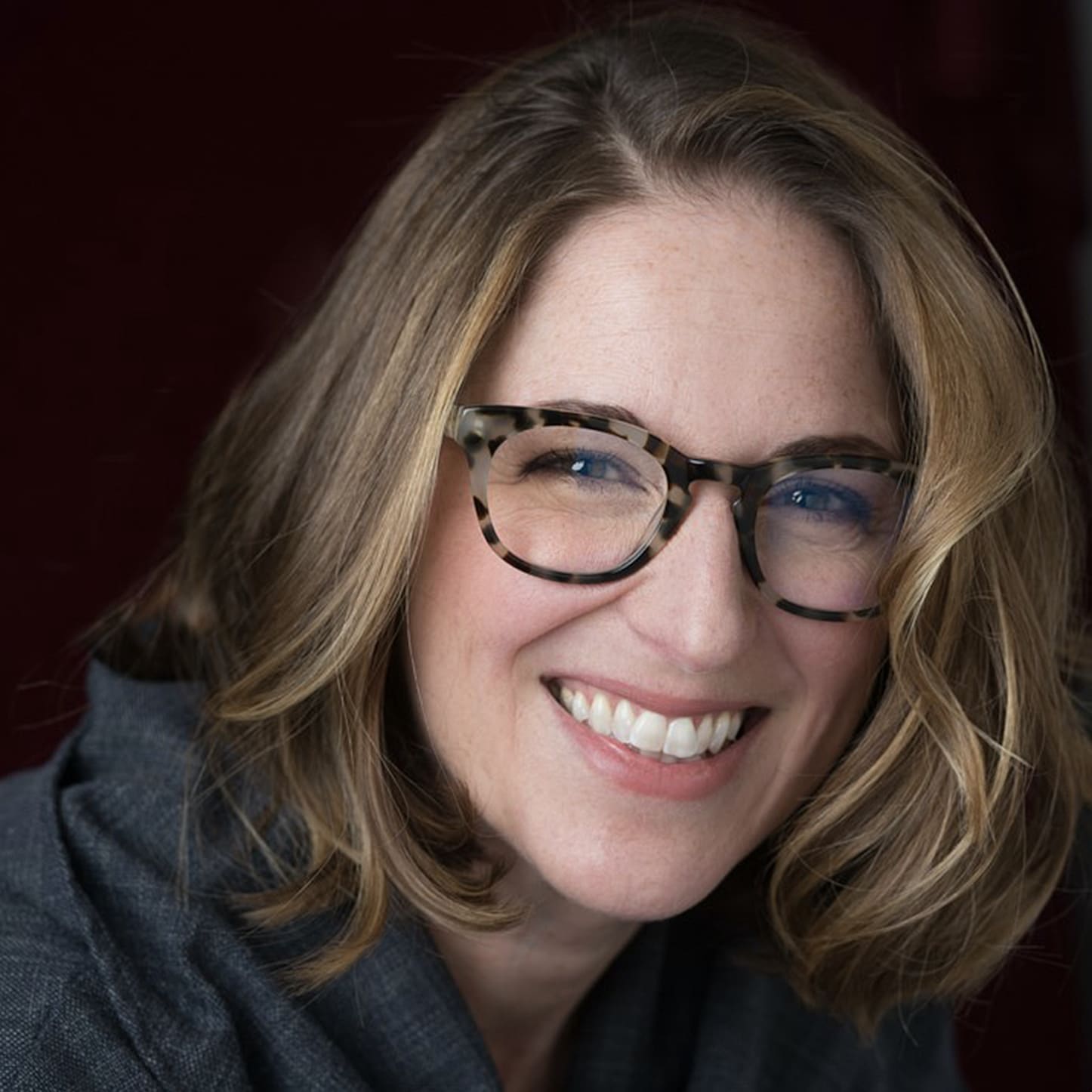 Save the Date - October 20, 2021
THE MARIA DEHAAS SPEAKER SERIES PRESENTS
NEW YORK TIMES BESTSELLING AUTHOR
JESSICA LAHEY
We are excited to welcome New York Times bestselling author Jessica Lahey to campus as our guest speaker for the Maria DeHaas Speaker Series on October 20, 2021, at 7:00 p.m. in the Cindric Performing Arts Center.

Jessica Lahey is the author of the New York Times bestselling book, The Gift of Failure: How the Best Parents Learn to Let Go So Their Children Can Succeed and The Addiction Inoculation: Raising Healthy Kids in a Culture of Dependence.

Over twenty years, Jess has taught every grade from sixth to twelfth in both public and private schools, and spent five years teaching in a drug and alcohol rehab for adolescents in Vermont. She currently serves as a recovery and prevention coach at Sana at Stowe, an evidence-based detox and rehab in Stowe, Vermont.

She writes about education, parenting, and child welfare for The Washington Post, New York Times, and The Atlantic, is a book critic for Air Mail, and wrote the educational curriculum for Amazon Kids' award-winning The Stinky and Dirty Show. She co-hosts the #AmWriting podcast with bestselling authors K.J. Dell'Antonia and Sarina Bowen from her house in Vermont, where she lives with her husband, two sons, and a lot of dogs.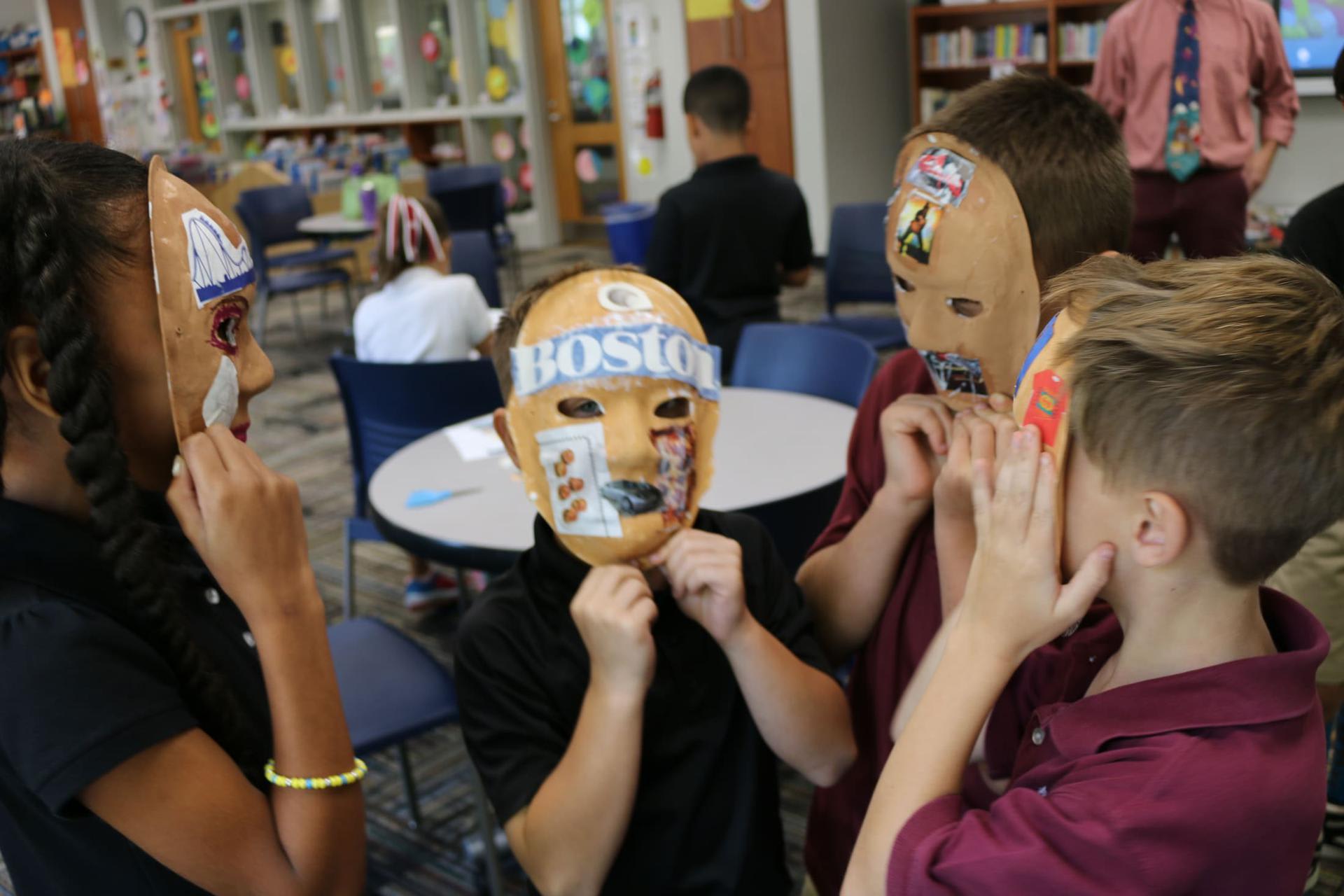 Register for the After School Program

If you haven't already done so, please register for the After School Program by August 13. Click here to register.

The After School Program (ASP) is offering 1, 3, and 5-day contracts along with the return of the drop-in option. If you plan to utilize ASP at all this school year, your child must be registered to attend. We look forward to being able to serve you and your child this year!

Parents picking up Lower School or Middle School students from the After School Program must enter through the main door of the Richard H. Snyder Building and follow Cannon's health and safety protocols. A receptionist will be on duty until 6:00 p.m. The receptionist will have a list of individuals who are authorized to pick up your children. Each authorized individual should be prepared to show a valid photo ID so that the receptionist can verify their identity.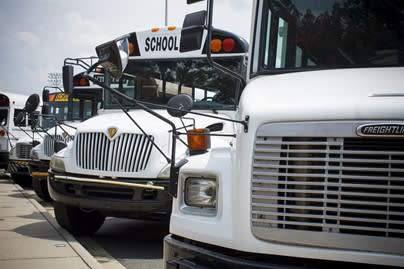 Remember to submit your Bus Transportation Agreement if your child(ren) will be using Cannon's bus transportation services for the first time, or if your child(ren) currently rides the bus, but you are changing your bus needs for this year. If you are a returning family and will continue with the same bus service as last year, or if your family does not require any bus transportation service, you do not need to complete the Bus Transportation agreement.

If you have questions, please contact Danny Wyke, Director of Transportation, at dwyke@cannonschool.org.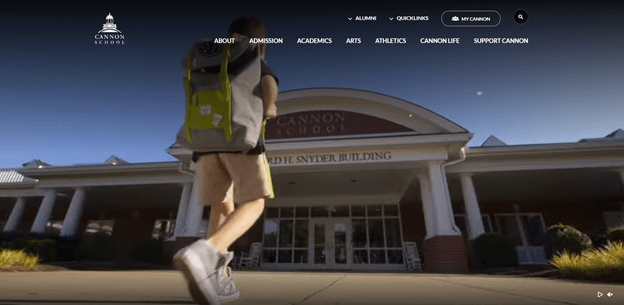 What did we do this summer? We launched a new website!

Whether you are a student, parent, alum, grandparent, or new friend just getting to know Cannon—our website was designed with you in mind. We encourage you to visit the new cannonschool.org, which shines a light on our incredible students, faculty, and programs with enhanced design, navigation, content, and features.
Please delete any bookmarks you saved in your browser to our old website since pages and links have changed. Use this link to login to the new My Cannon portion of our website.

We extend special thanks to Lynda Abel, Website Marketing Manager and alumni parent, for crafting hundreds of pages that tell Cannon's story so beautifully. We thank Bill Donovan, Director of Institutional Technology, and the Technology, Advancement, and Admission teams, who played key supporting roles. And we are grateful for the countless administrators, faculty, and staff who provided input over the past year.

We will continue fine-tuning the website in the coming months. If you have input to share, please reach out to Lynda Abel at label@cannonschool.org. We look forward to seeing you online!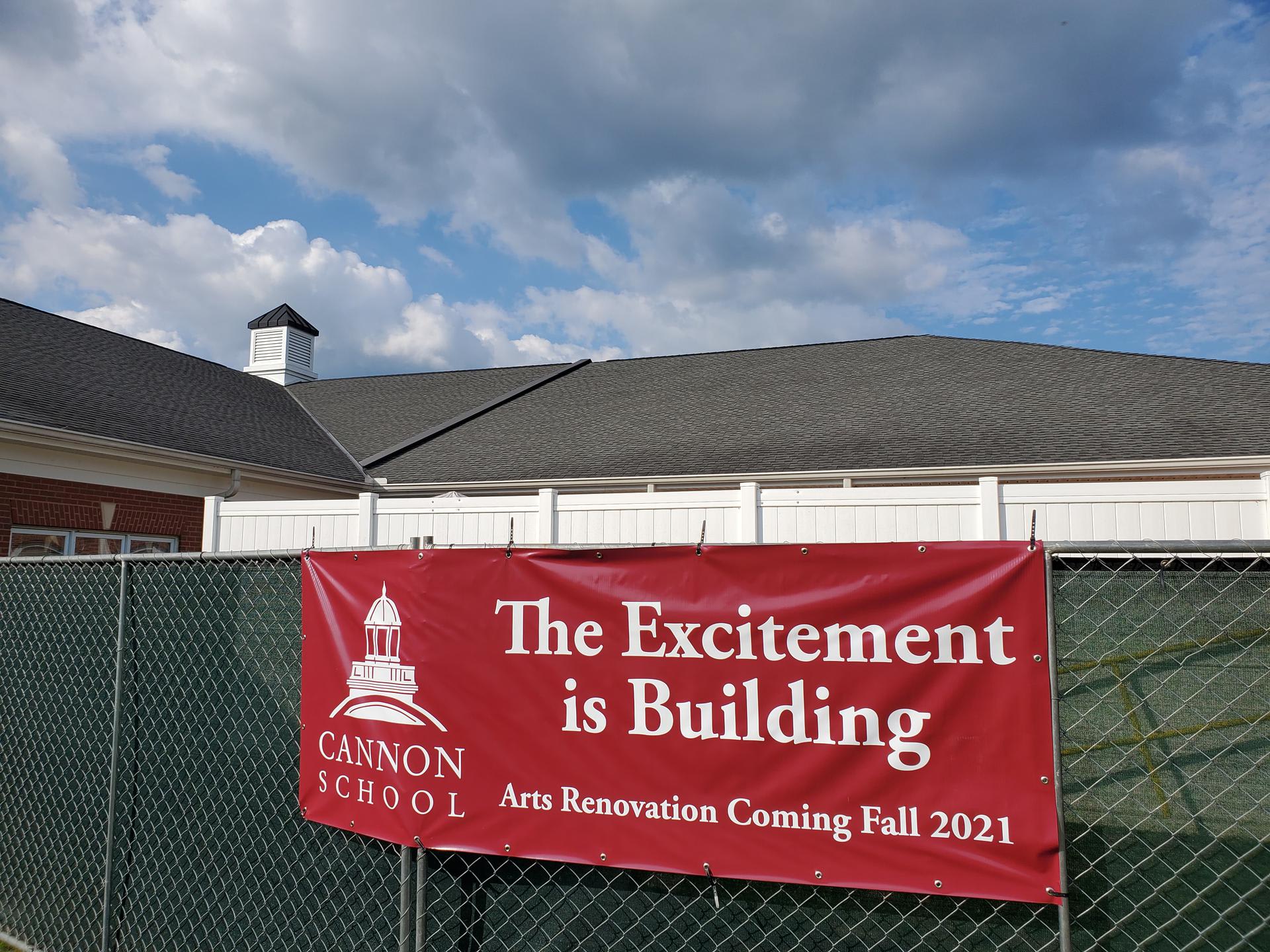 Keep reading to learn more about these exciting renovations on campus!
ARTS RENOVATION
Thanks to a foundation grant, an anonymous donation, and support from CAFTA and Cannon Cultures, Cannon School underwent a renovation to update some of its arts spaces for optimal performance. The Upper School Art Studio and Band Room switched places, enlarging the art studio and enabling band to move further away from the noise of saws and drills in the ThinkTank. Construction is complete on these interior renovations. In addition, the patio workspace outside the ThinkTank will be enclosed with a roof and garage doors to serve as a collaborative area for both Middle and Upper School students. This exterior arts expansion will begin in September.
LIGHTS ON ATHLETIC FIELDS

Thanks to the generosity of current Cannon families and the Cougar Club, we will be adding outdoor LED lighting on Cannon's baseball field and upper tennis courts early in this school year. The lights will increase visibility and safety for student-athletes; enable training and competition in the evening; attract talented coaches and assistants who are unavailable in the afternoons; and enhance the experience of student-athletes and spectators.
ESPORTS SPACE


Did you know Cannon has a growing Esports program? What began as an Upper School club for students to play video games together has grown into an esports team that competes against other schools. Thanks to an anonymous donor, the team now has a new space to practice and compete. This summer, The Mill was outfitted with thirty new computers and one dedicated machine for broadcasting (which includes internet and HVAC upgrades to support the addition).
INDOOR & OUTDOOR ENHANCEMENTS
Thanks to the generosity of Cannon Connections, we will be adding: a shade structure to the Lower School playground, new indoor and outdoor seating for students and teachers to utilize throughout the school day, and benches and tables for the second floor of Upper School.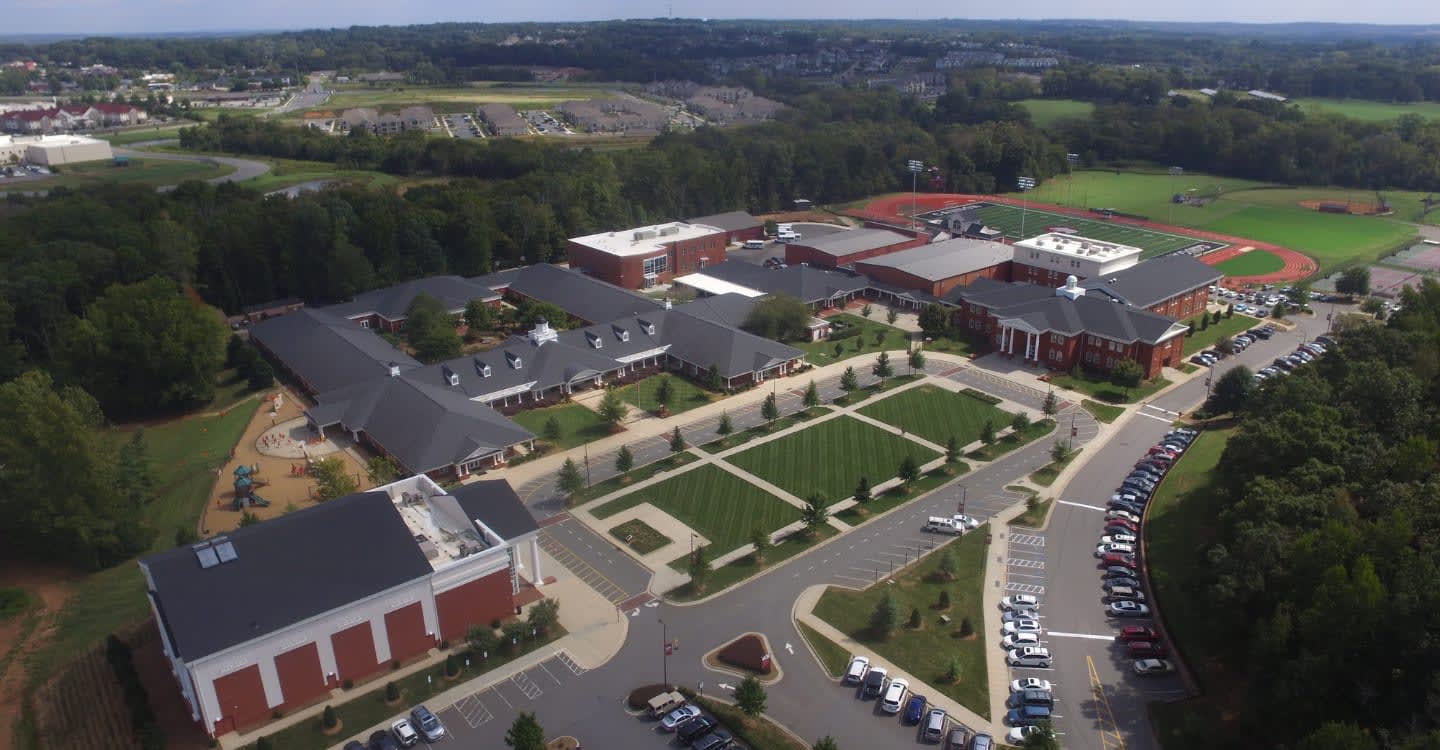 Cannon School continues our journey to reaccreditation. The accreditation process is completed every five years by all Southern Association of Independent Schools (SAIS) member institutions. During the summer months, we have been completing our Cannon School Report to be submitted to an SAIS team of five school leaders from peer schools in the region. The School Report includes updates on how we have grown over the past five years as well as details about or Self-Study (2018-2019) and the Strategic Design (2020-2021) that will take Cannon into the next five years.
We are also beginning to prepare for the three-day SAIS team campus visit scheduled for October 24-26. And we are looking forward to a live (not virtual!) visit.
Serving on the Cannon Accreditation Team are Joe Trojan, Paula Hylton, and Julia Finneyfrock from Upper School; Christiana Holyer and Stephen Wildfeuer from Middle School; Melissa Fox and Deanna Dobbins from Lower School. The team is led by Accreditation Co-Chairs Beth Wilner and Fabio Hurtado.